Boost your energy with delicious crunchy kale!
Posted by Tammy Hooper on Monday, July 24, 2017 at 11:10 AM
By Tammy Hooper / July 24, 2017
Comment
Crunchy raw kale, tangerines or clementines, jalapeño and goat cheese make a vibrant superfood meal!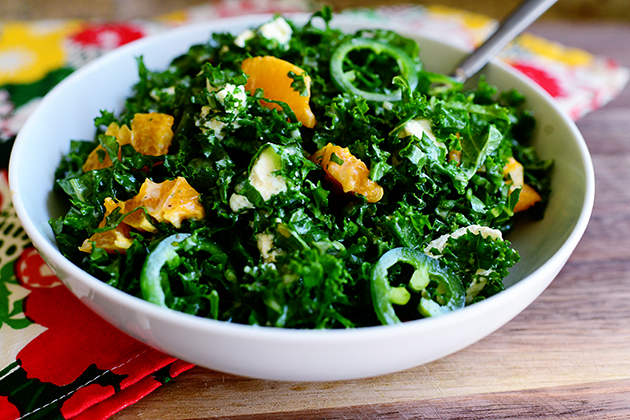 This time of the year I often crave for something earthy but refreshing, and the mix of kale and tangerines makes it happen!
I found this recipe on "The pioneer woman cooks DINNERTIME", by Ree Drummond, and I think it's just perfect! Super easy and fast to prepare, you are guaranteed to impress your guests!
---
SALAD: CREAMY CITRUS DRESSING:
1 bunch kale 1/4 cup orange juice pinch of kosher salt
1 1 garlic clove pinch of black pepper
3 tangerines or clementines 1 teaspoon sugar 1 heaping tablespoon sour cream or Greek yogurt
4 oz goat cheese 2 tablespoons extra-virgin olive oil
---
1- Start by prepping the kale. Rinse it well and dry it, then discard the stalks.
2- Working in bunches, roll up the leaves into a tight roll and use a sharp knife to slice it very thin.
3- Next, cut the ends of the jalapeño and use a sharp knife to cut really thin slices. Use a spoon to clear as many seeds out of the centers as you can, so that you mostly just have green circles.
4- Peel the tangerines or clementines, then slice them and cut them into chunks.
5- Add the chunks of tangerines or clementines, along with the jalapeño and the chunks of goat cheese to the salad.
6- For the dressing: pour the orange juice into a small jar. Grate or press in the garlic, add the olive oil, sugar , salt and pepper. Put the lid on the jar and shake vigorously for about 30 seconds.
7- Finally, add the sour cream or the Greek yogurt and shake again.
8- Dress and toss the salad, and you are ready to serve it!